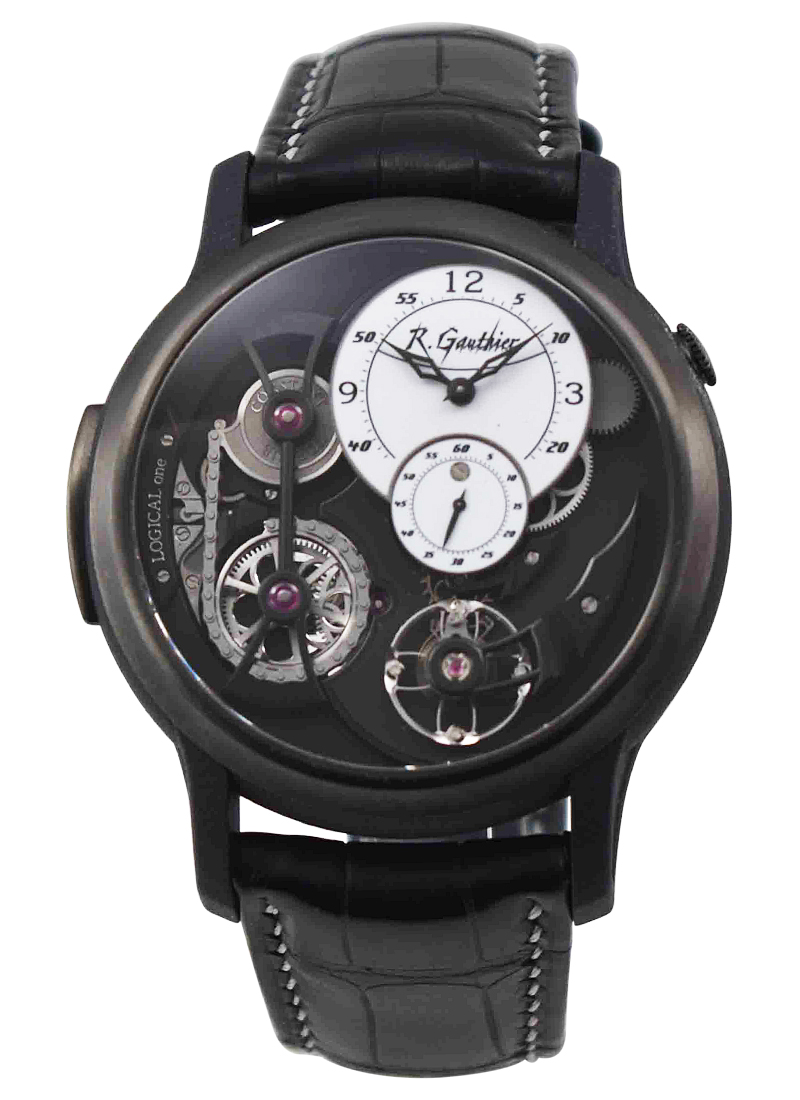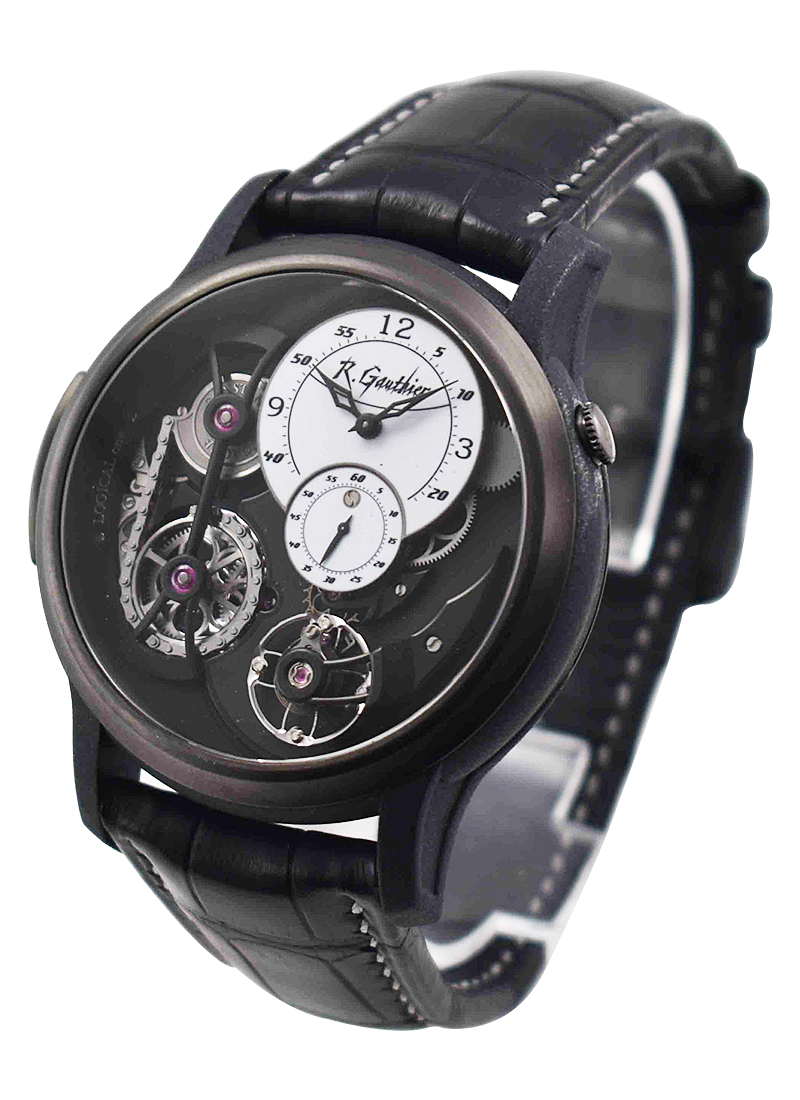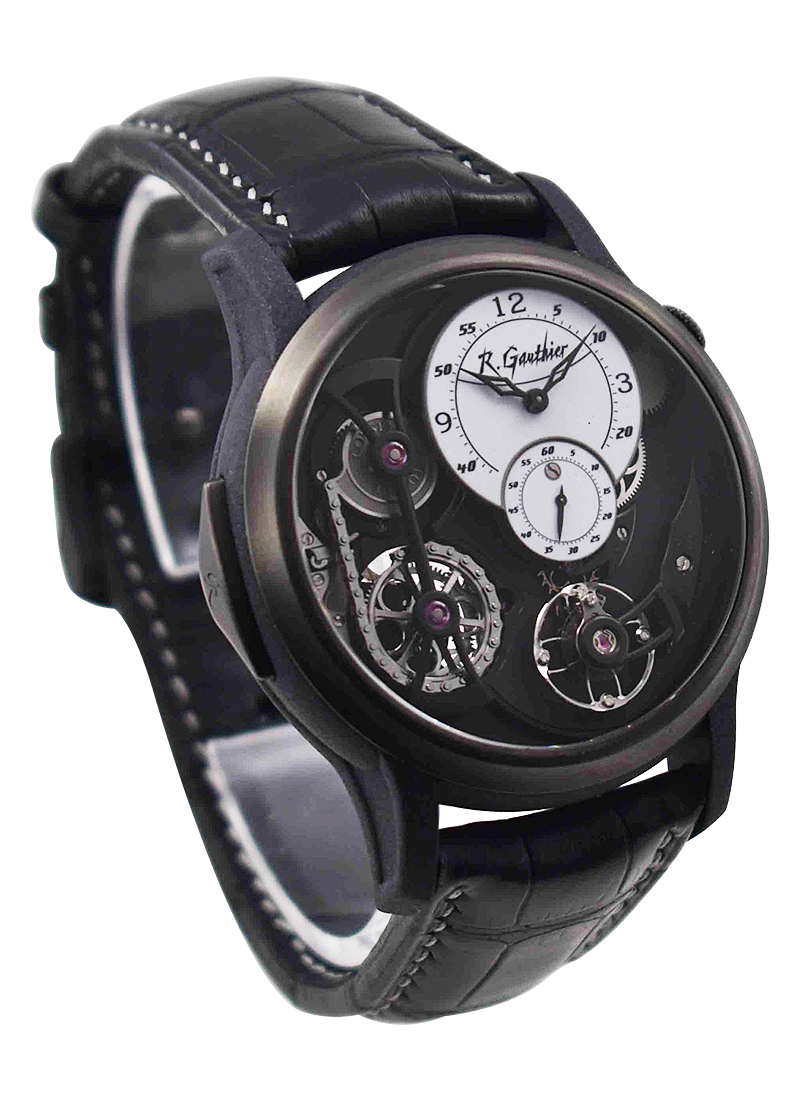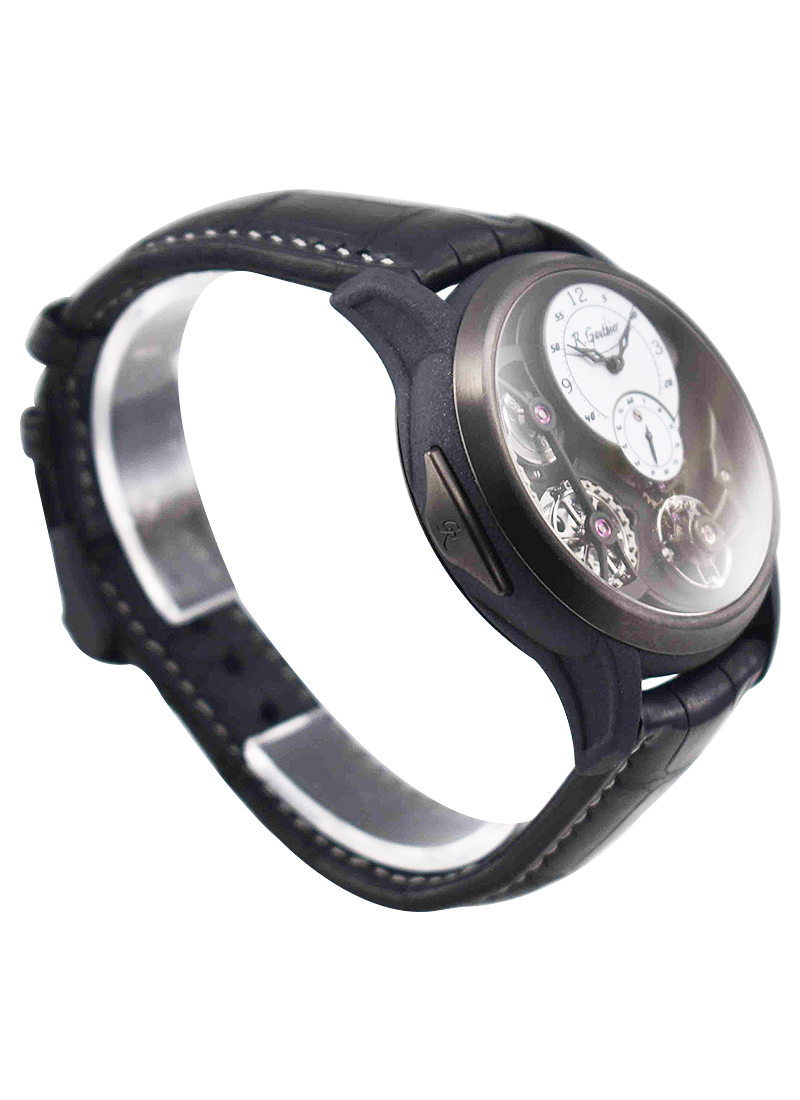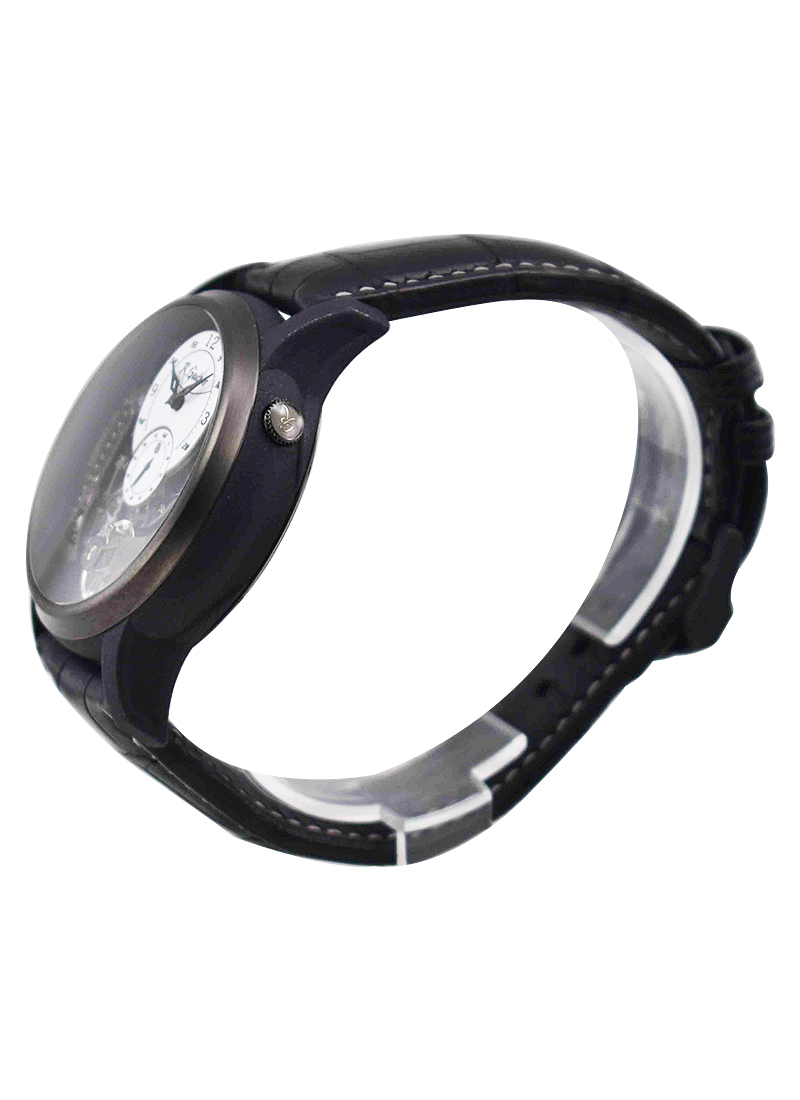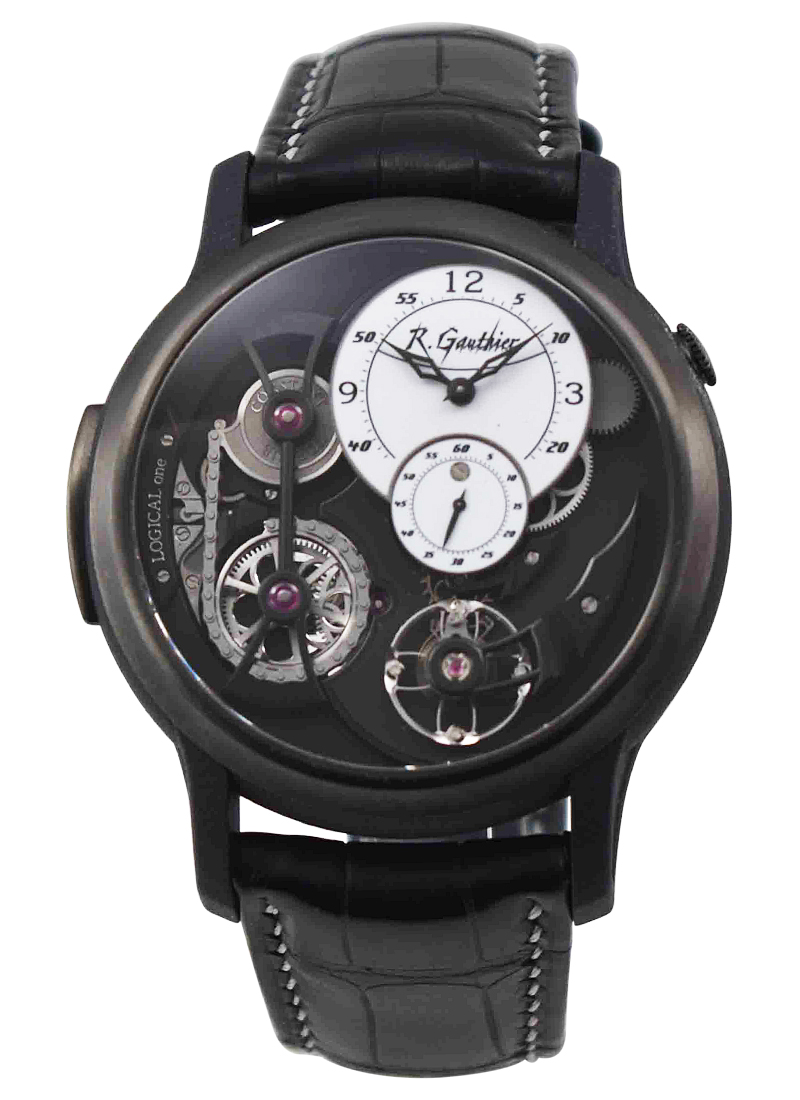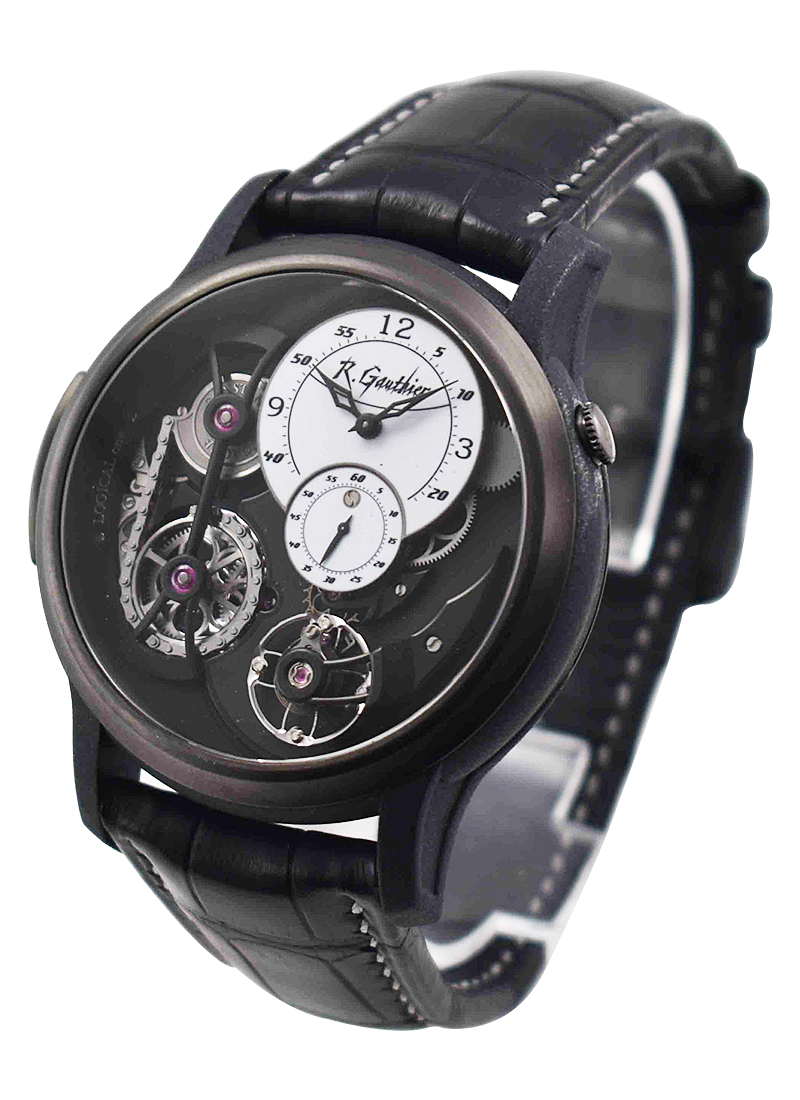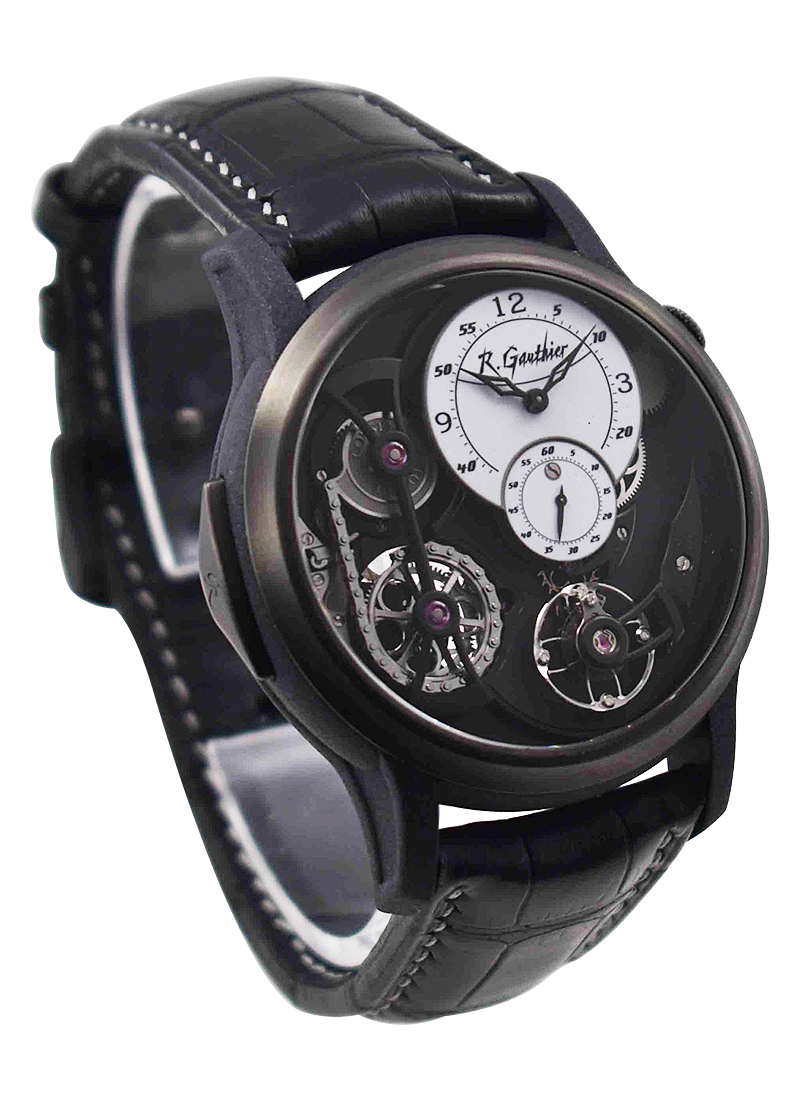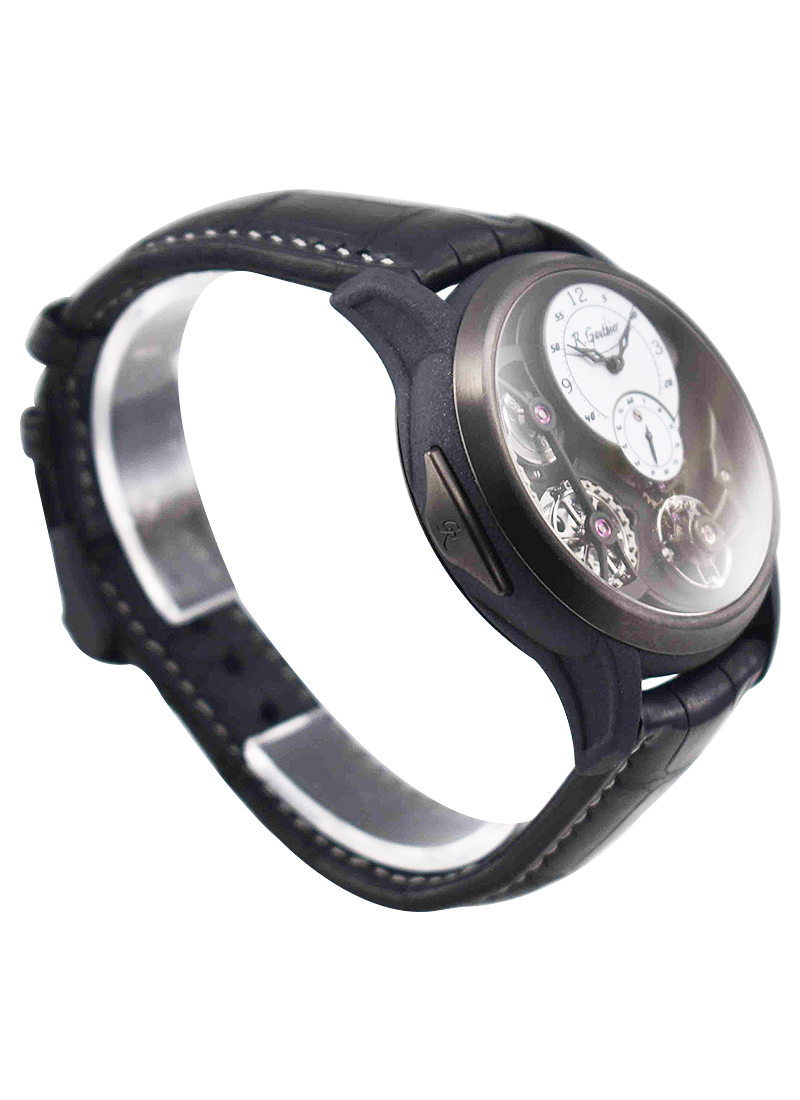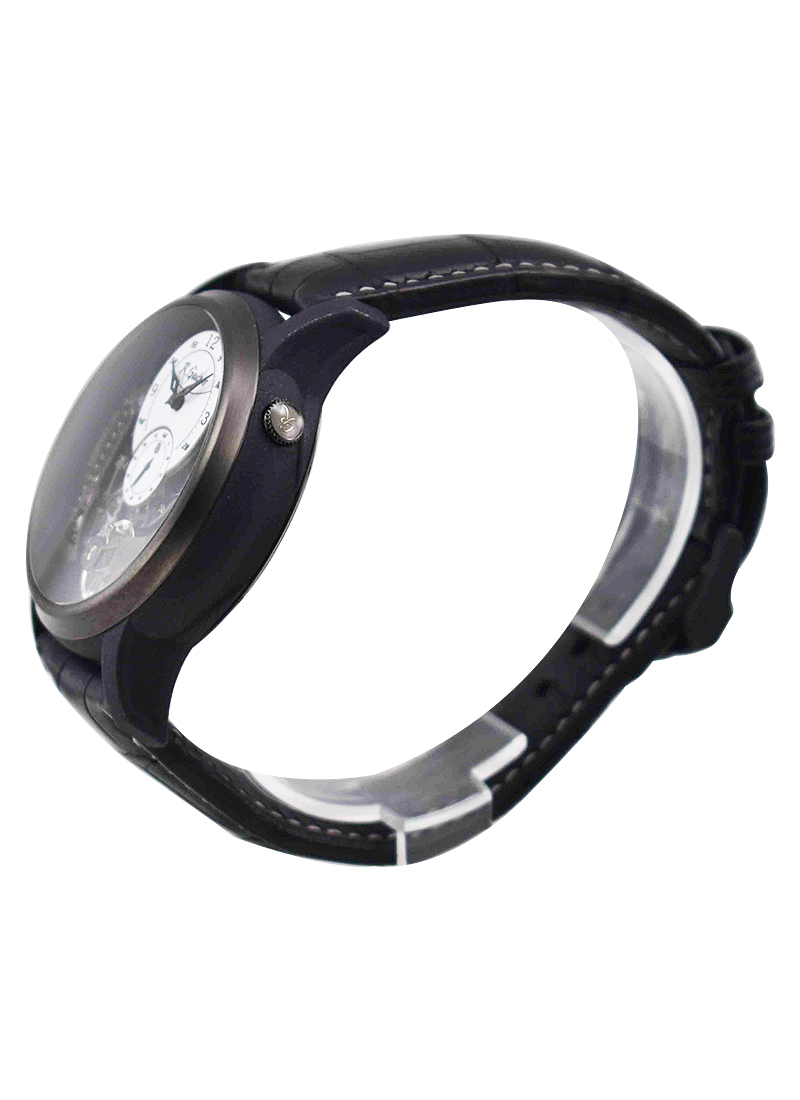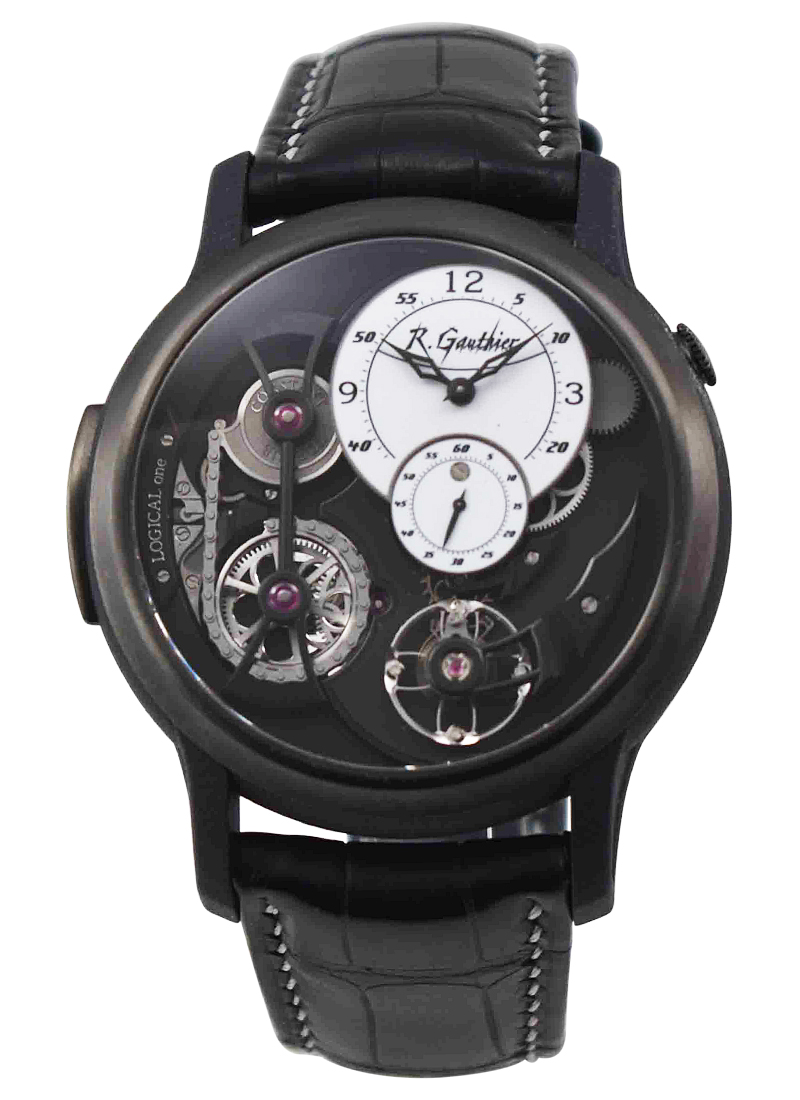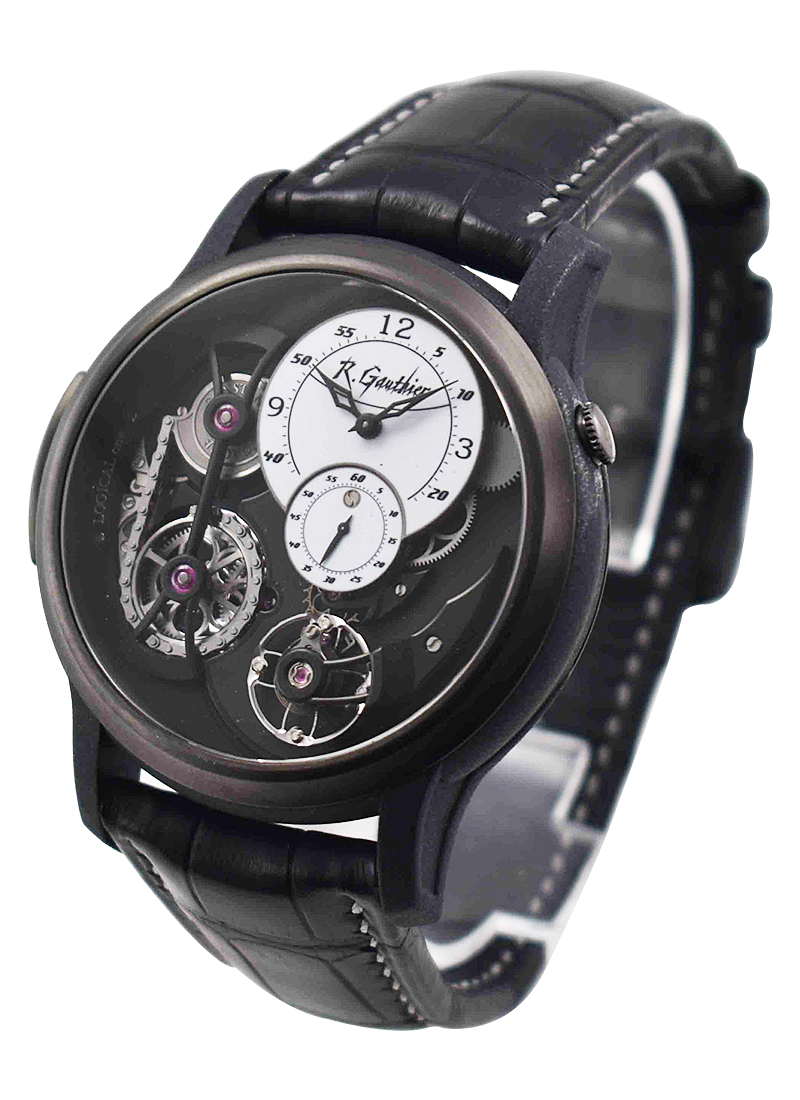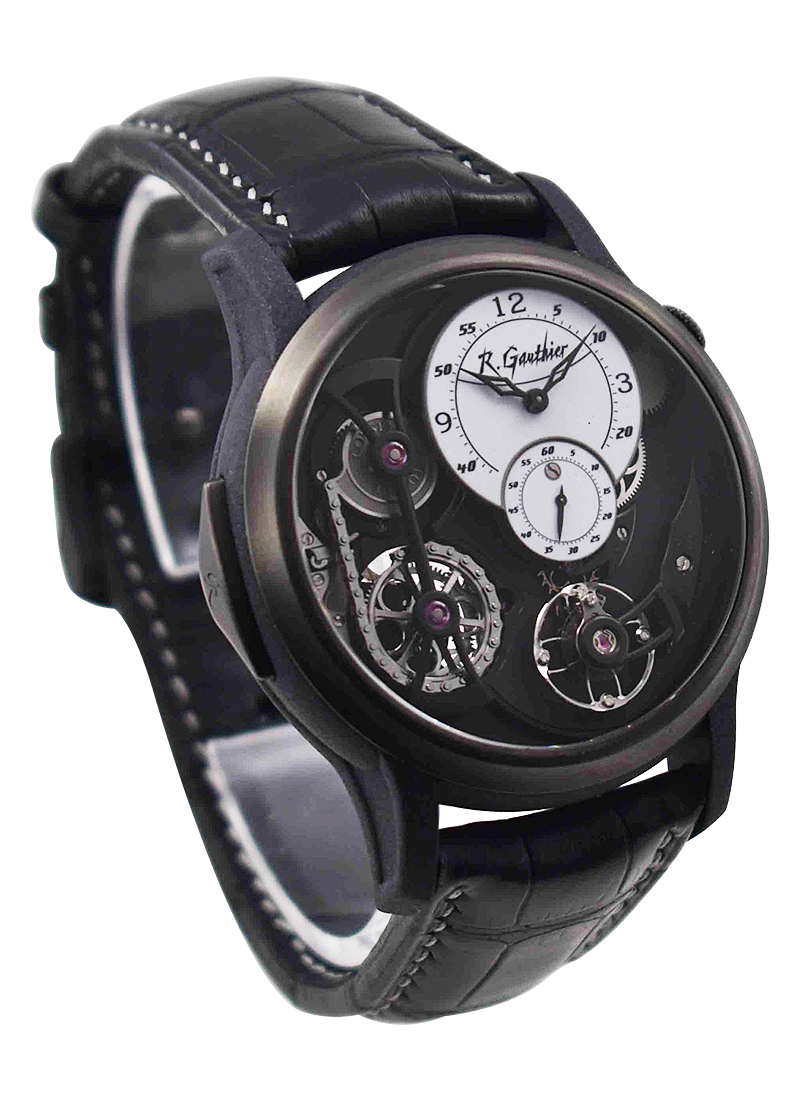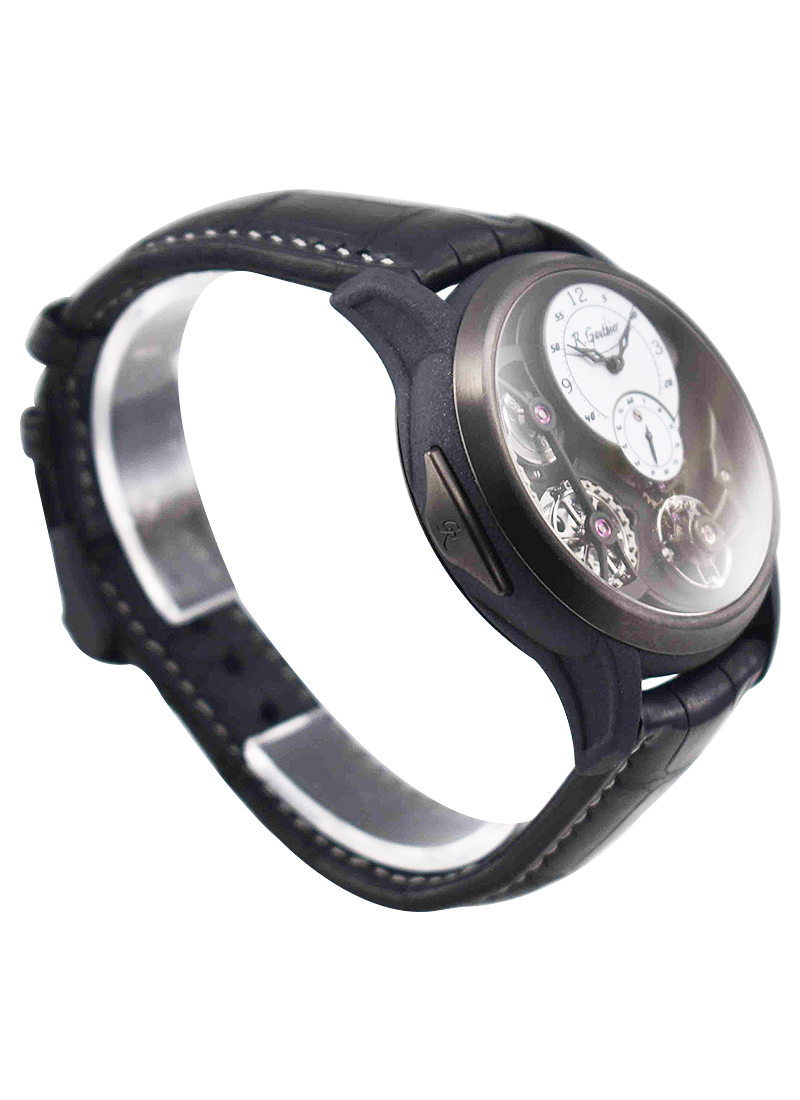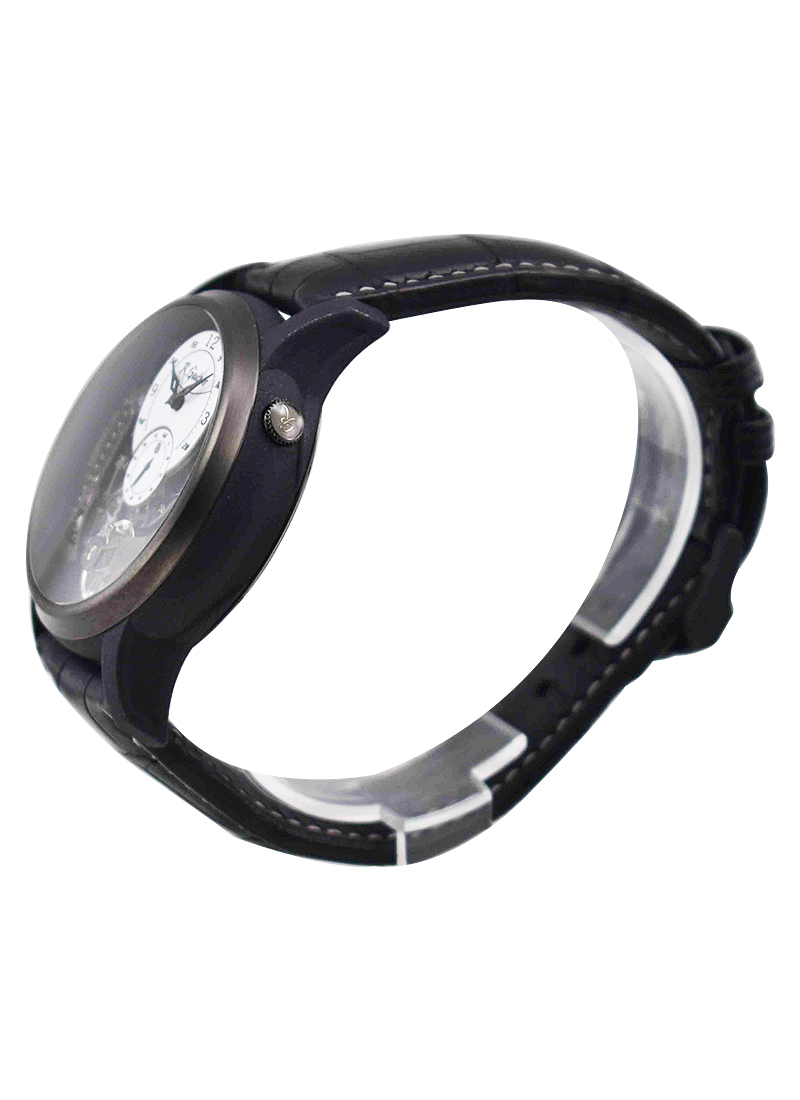 Romain Gauthier
Logical One Enraged Titanium - Piece Unique
Black Movement - White Subdials Papers December 2017
| | |
| --- | --- |
| Model #: | MON99979 |
| Case Material: | Titanium |
| Case Size: | 43mm |
| Movement: | Manual |
| Dial: | White Enamel |
| Bracelet: | Black Alligator Leather |
| Retail Price: | $174,000 |
Condition: This watch is in Like New Condition.* Complete with Box and Papers.
$ 139,200
* We have graded this watch to be 98% - there are No visible scratches
Message us now on

whatsapp
Description
The Logical One not only reinvents constant force in its own way but also offers a totally innovative system of winding commanded by a pusher.

Chain and snail:
As we have known for many years, the power supplied by the barrel varies considerably and rapidly once the mainspring reaches the end of its tension. To combat this, as early as the 15th century a system using a conical pulley, in the form of a fusée, wound by a cord (for large tower clocks) then later by a chain fixed to the barrel, was conceived in order to compensate the gradual loss of torque. But, as Romain Gauthier demonstrates, the fusée and chain mechanism has two main disadvantages: at wristwatch scale, the size of the levels on the fusée require very small—and therefore fragile—links on the chain; and the angle of the chain between the fusée and the barrel adds further tension.

Romain Gauthier has therefore replaced the fusée by a snail that rotates slowly, positioned at the same level as the barrel. The force is therefore transmitted in a straight line and, with the chain being shorter, its links can be bigger and thus more robust.

As a result, Romain Gauthier has conceived a chain whose links are in synthetic ruby, which offers great resistance to wear and a low friction coefficient. These links are attached by a new pressure clip system that is simple, reliable and precise.

The winding system presents another innovation. Dispensing with the traditional crown, which transmits the winding energy to the barrel at 90 degrees through a thin stem, Romain Gauthier has instead opted for a system of winding by means of a pusher that is integrated into the left-hand side of the case. This easy-to-use system allows the force to be transmitted to the barrel in the same plane. He has also placed the mainspring between two synthetic sapphire bridges. This material has a low friction coefficient with steel and is therefore especially resistant to scratches, which eliminates the recurrent problems associated with traditional barrels in brass, where the spring progressively scratches the metal, which ultimately prevents the spring from winding and unwinding correctly. This movement in titanium and brass also has circular arms on the wheels of the going train for maximum rigidity and a high-efficiency profile on the teeth of the wheels (patent pending), as well as very rigid triangular pallets, invented by Romain Gauthier.

This movement, "designed, developed, produced, decorated, assembled and adjusted entirely in-house", has a superlative finish.