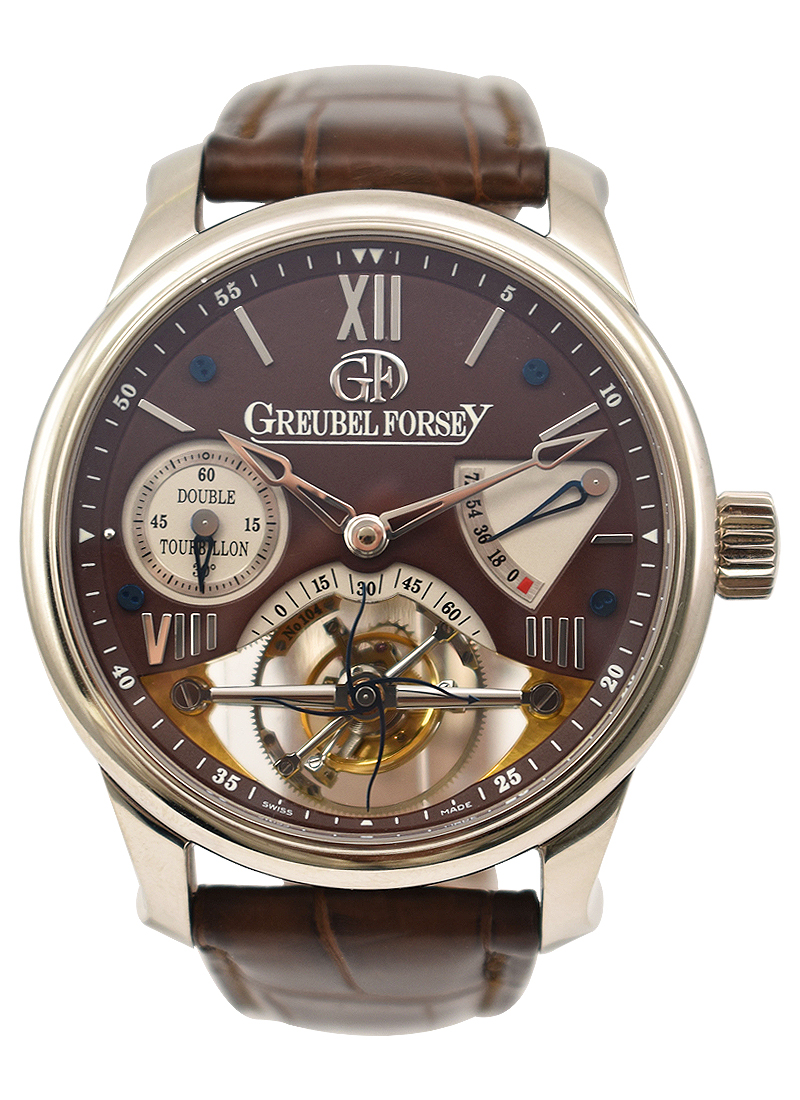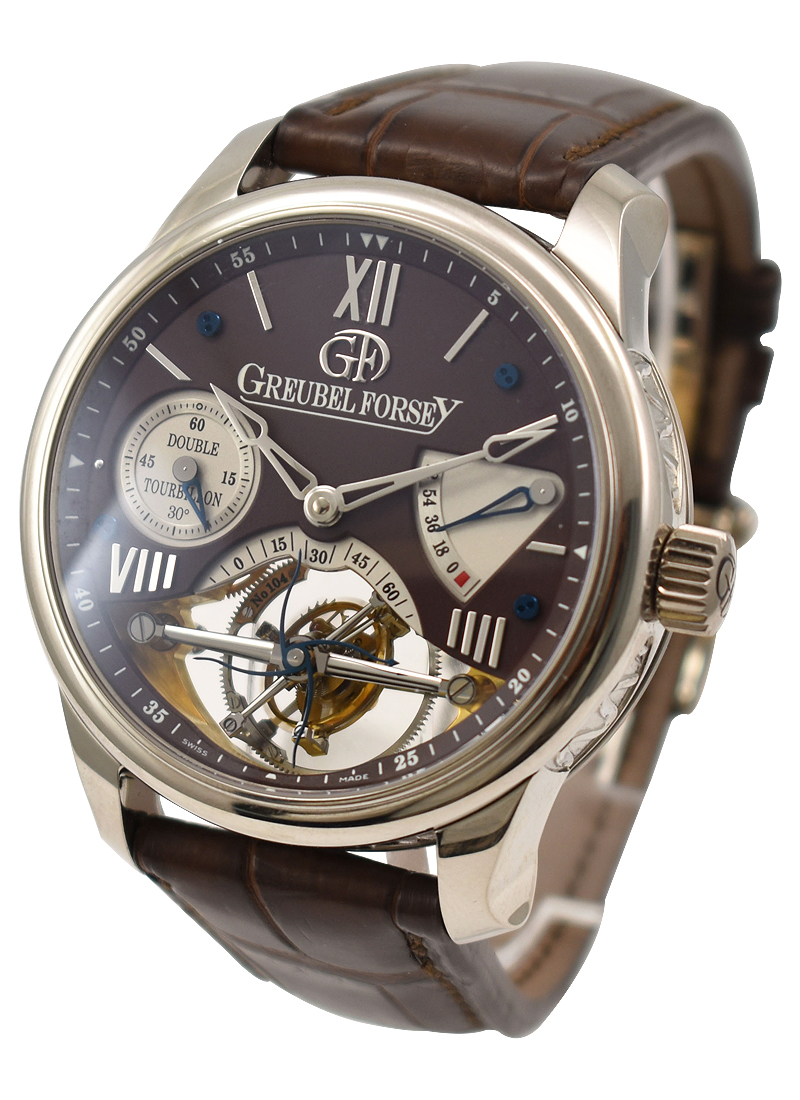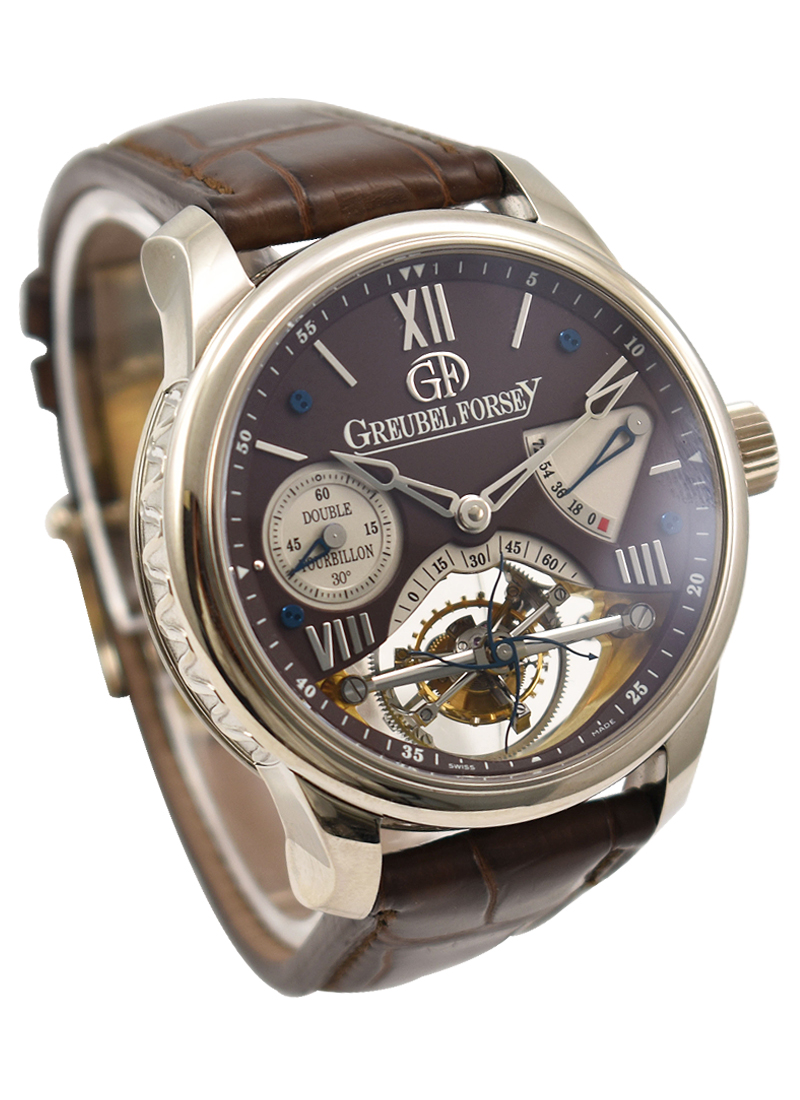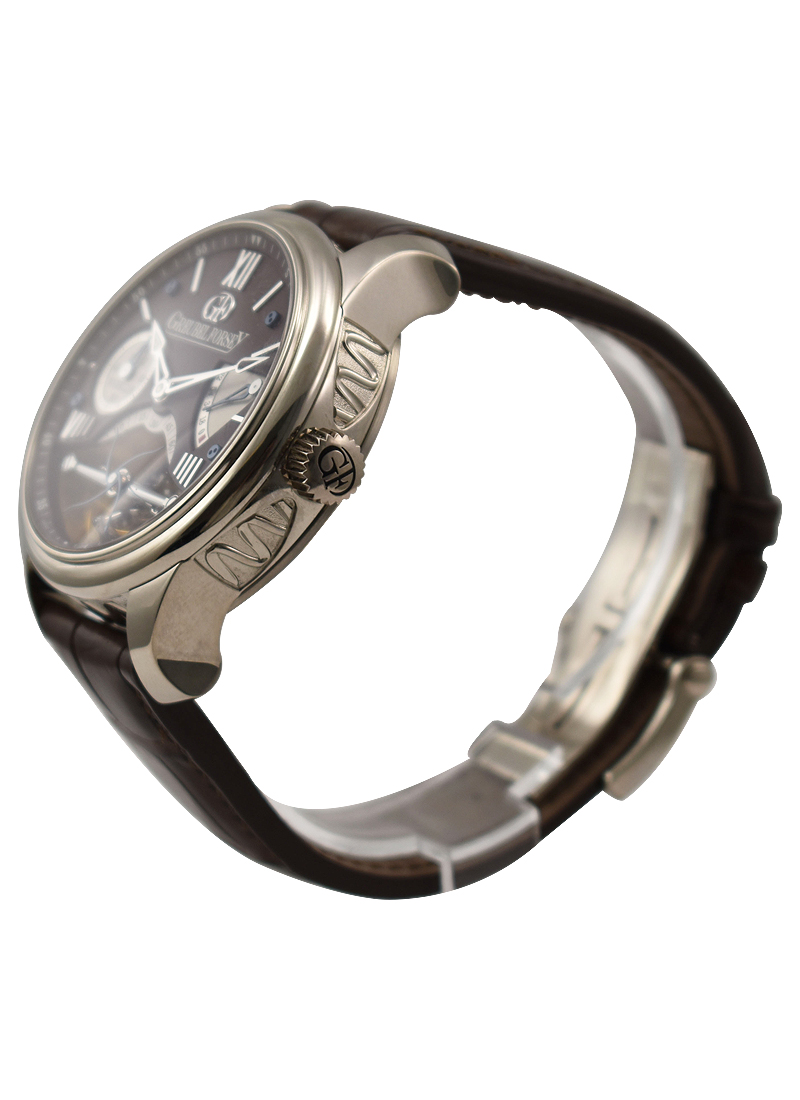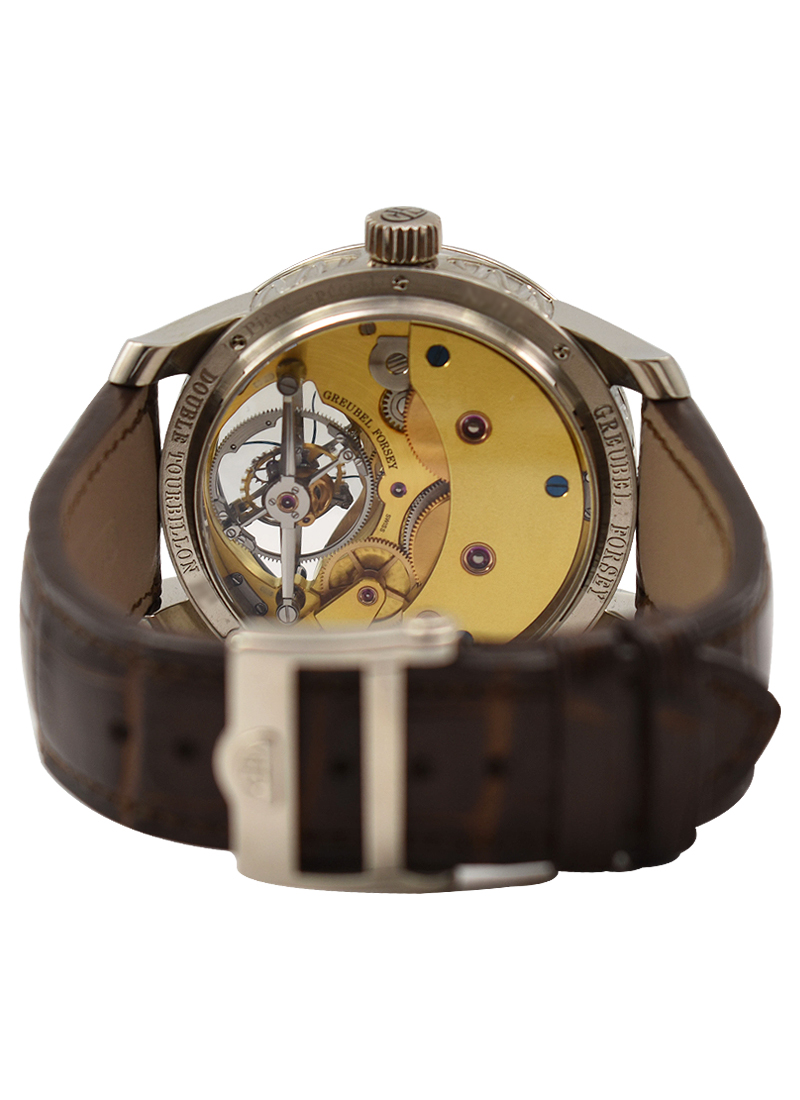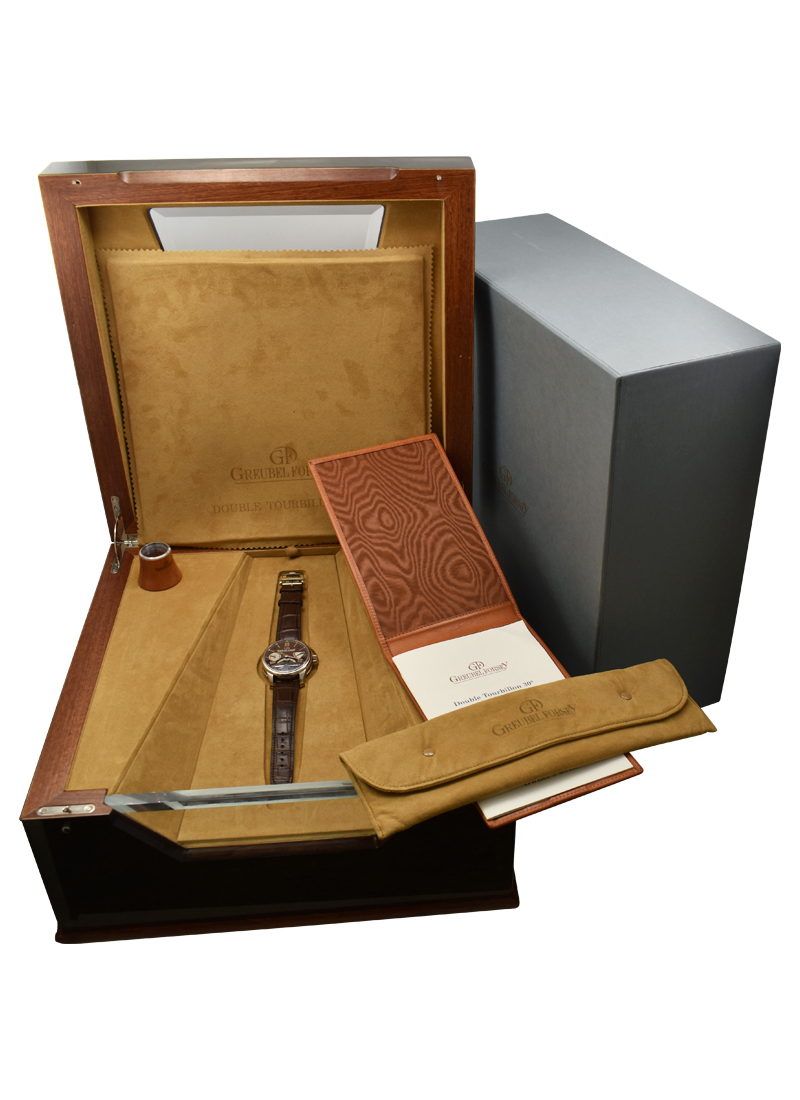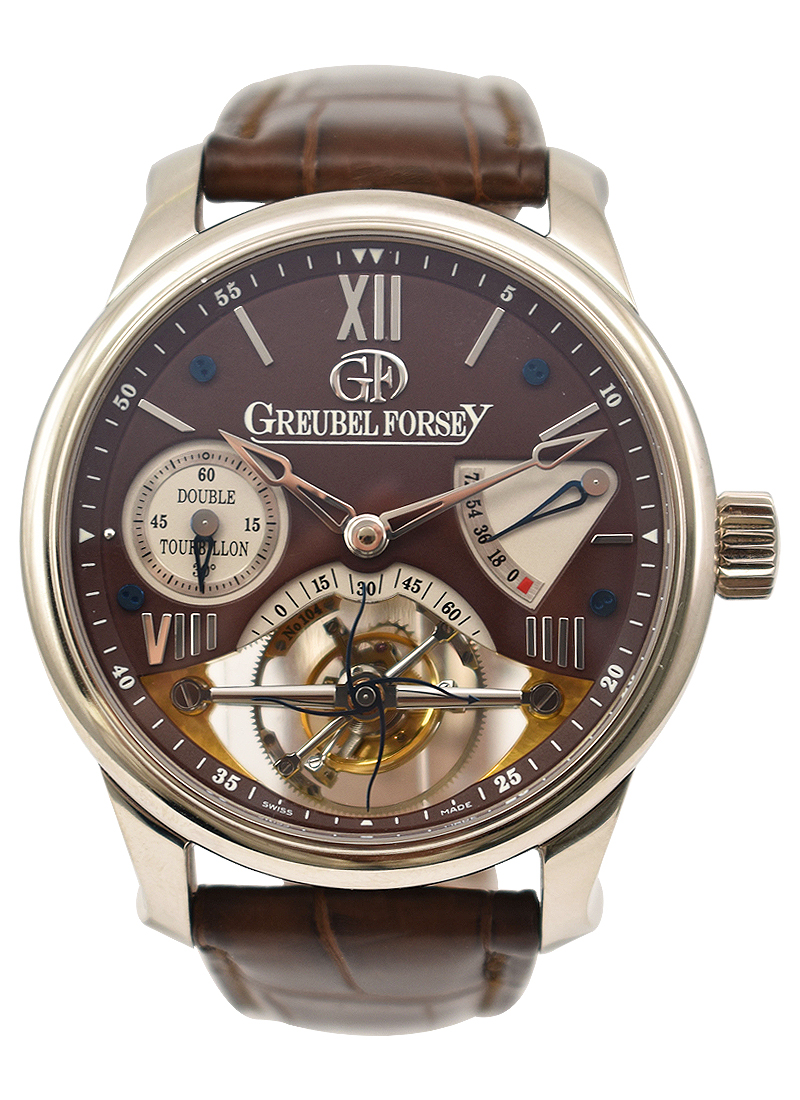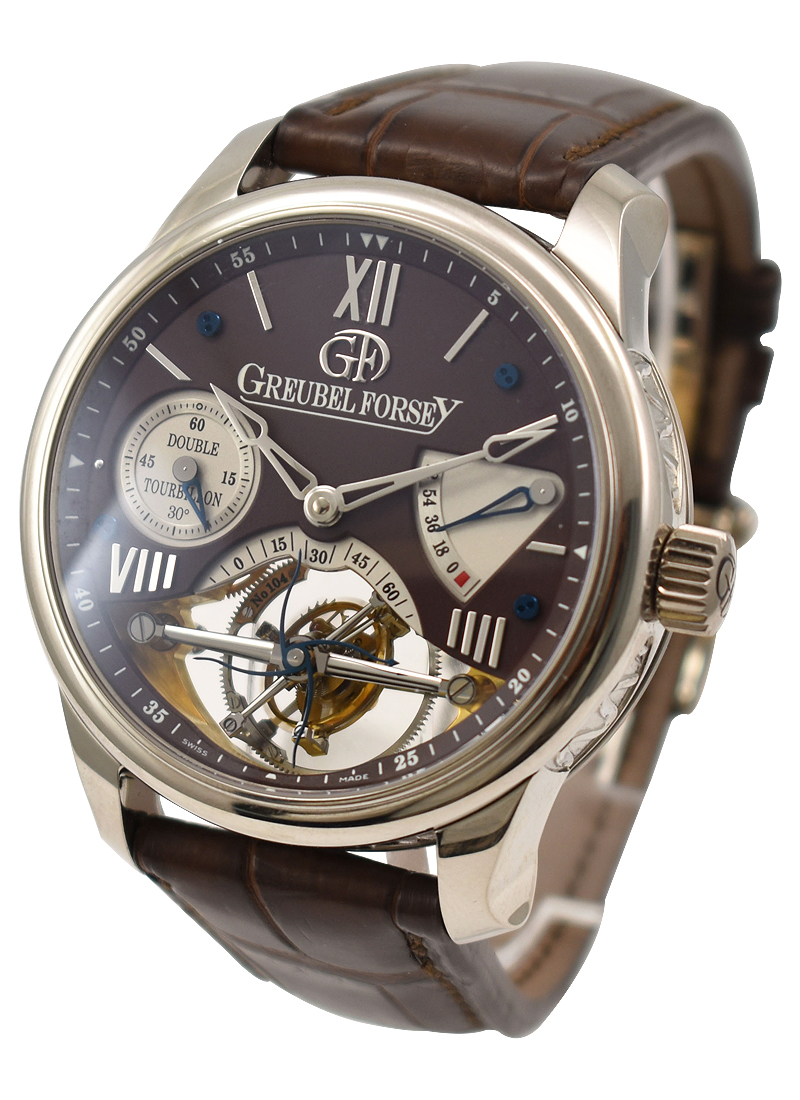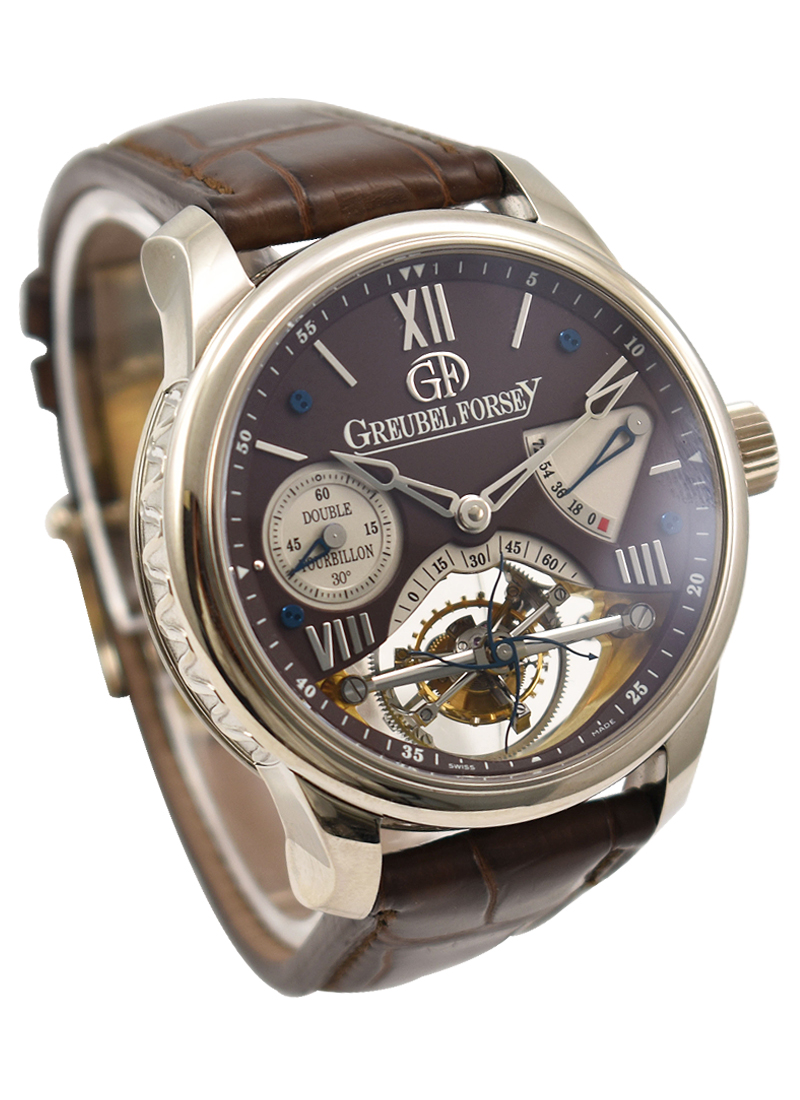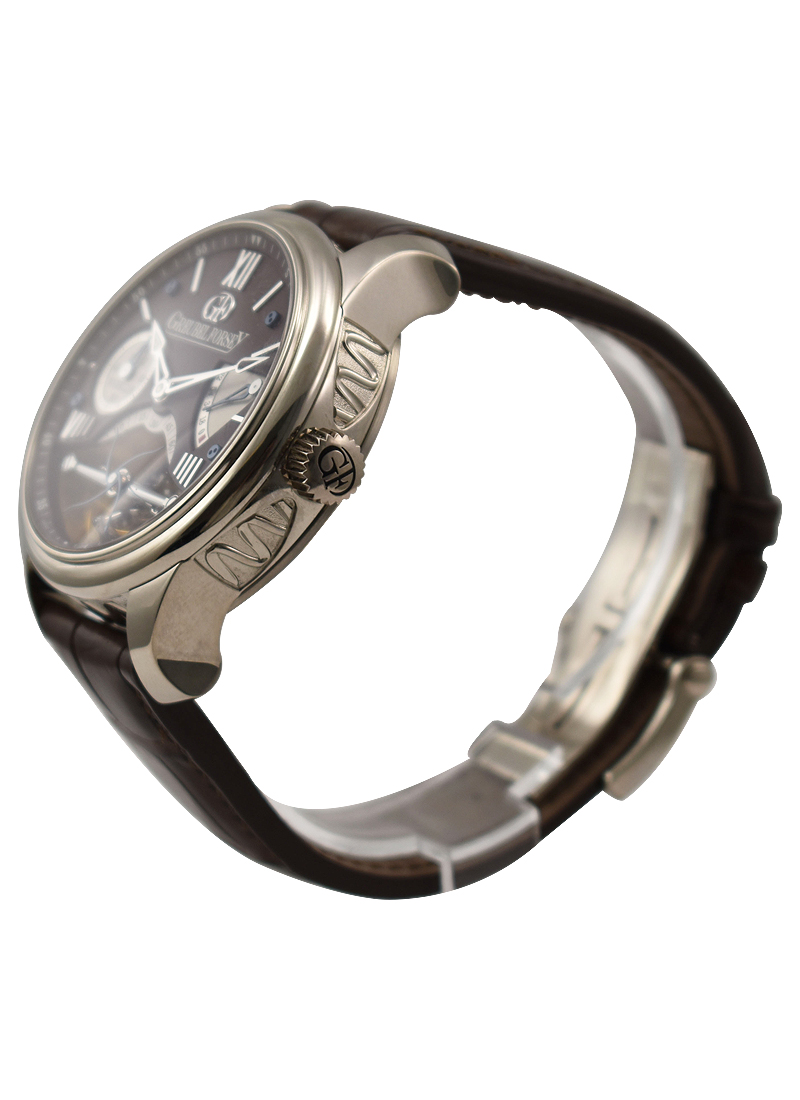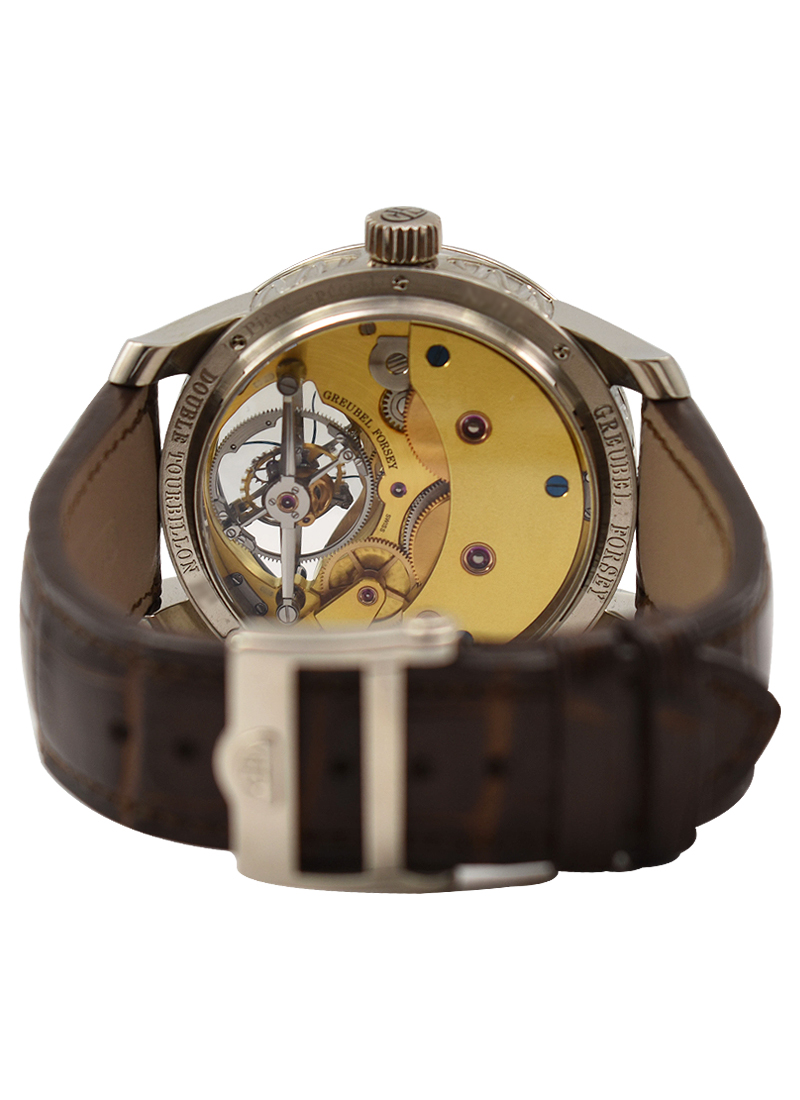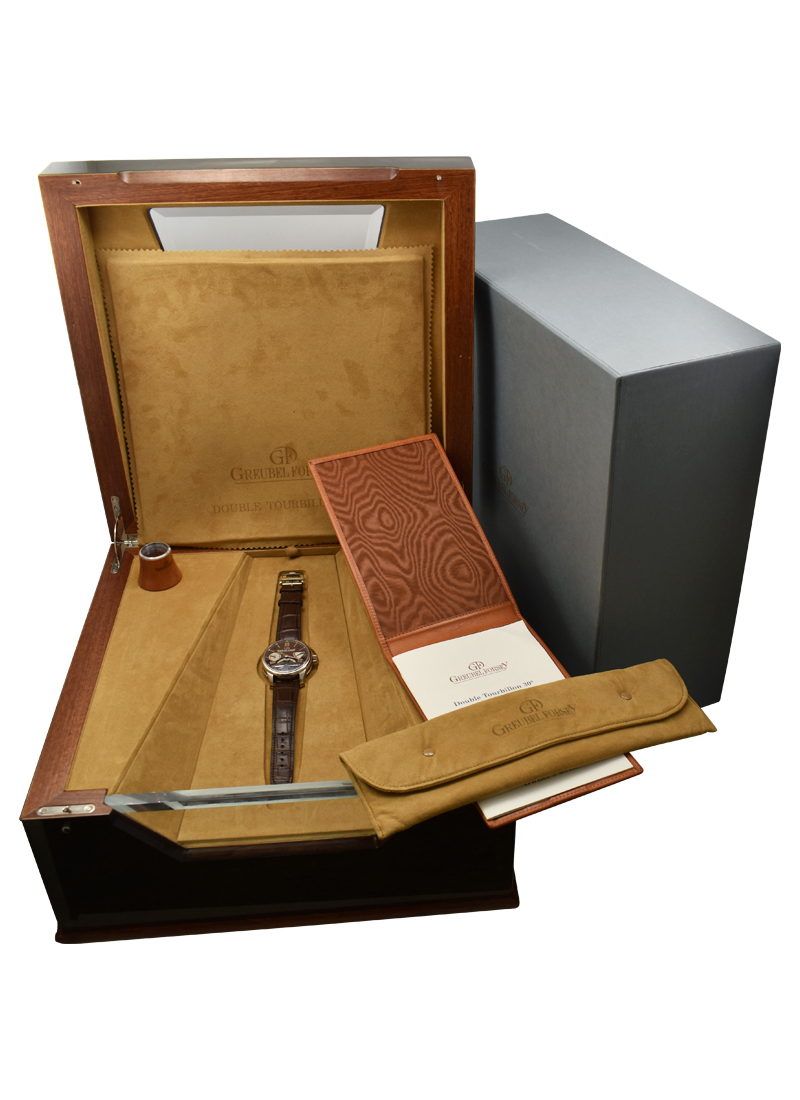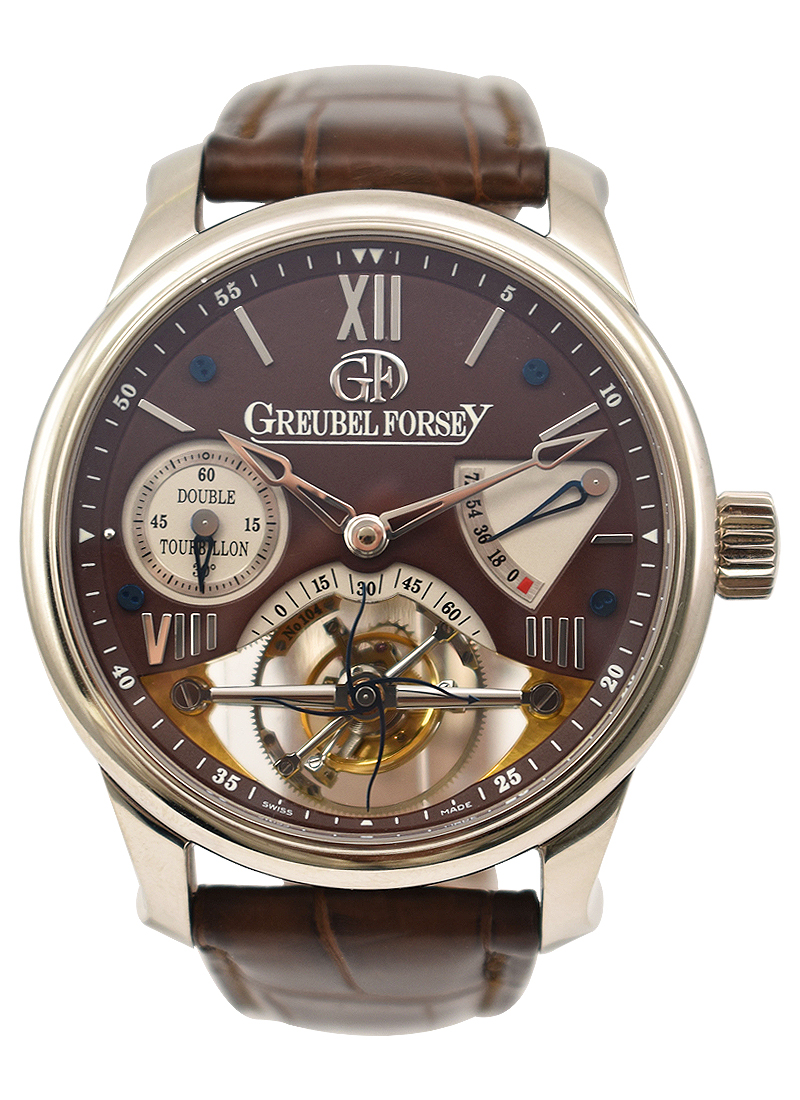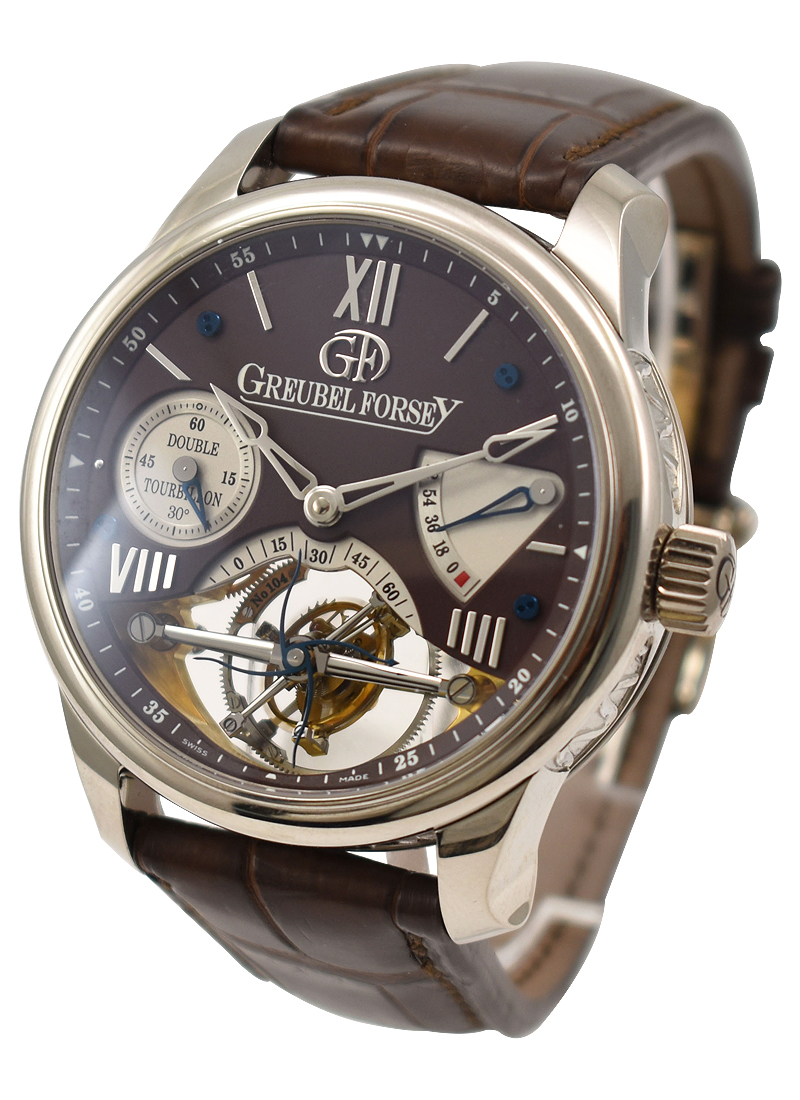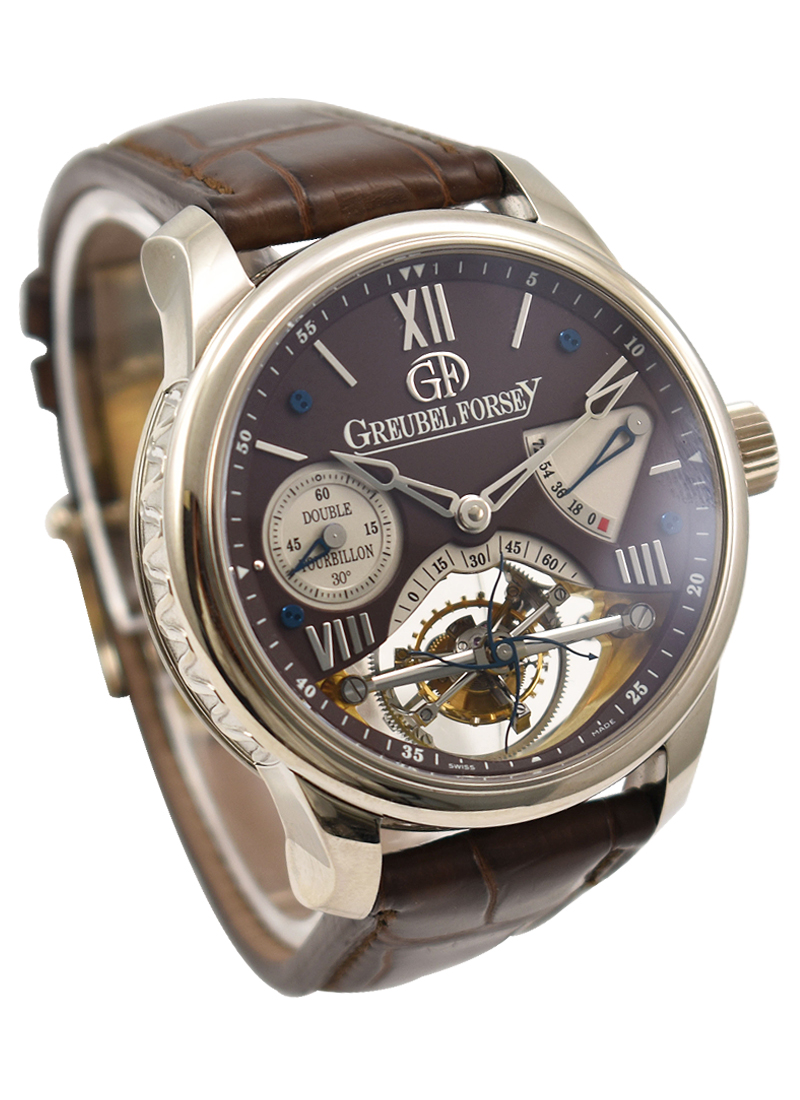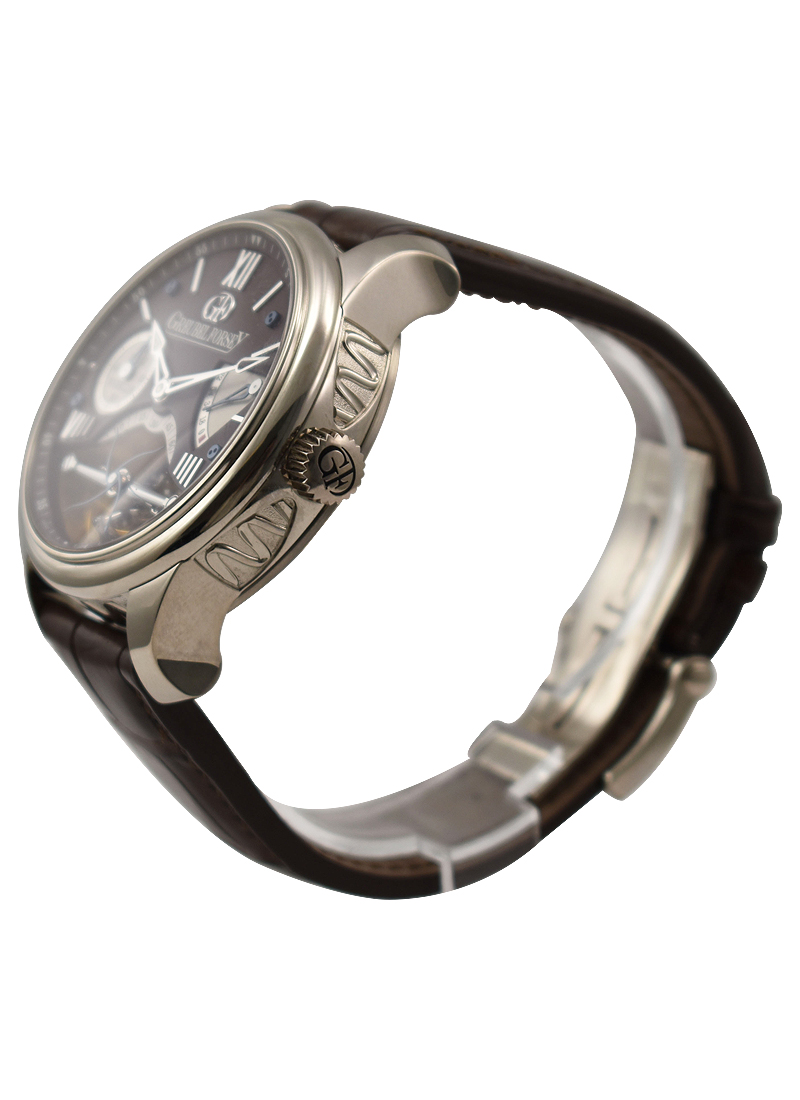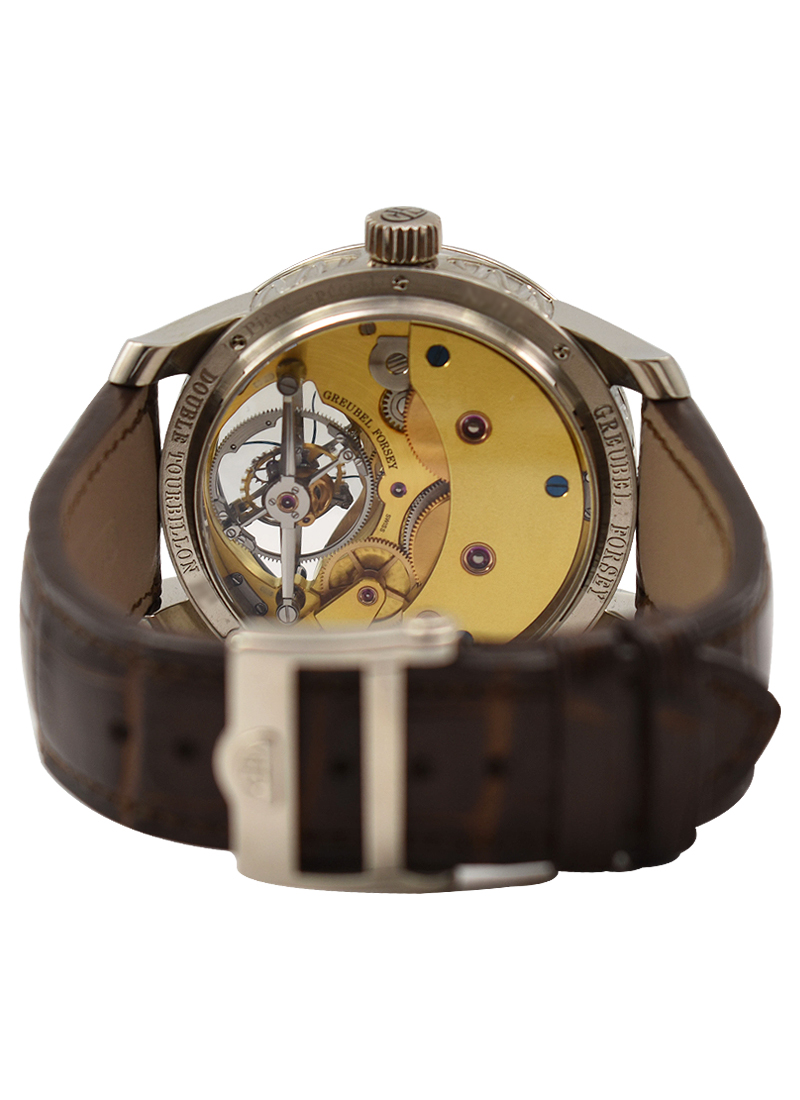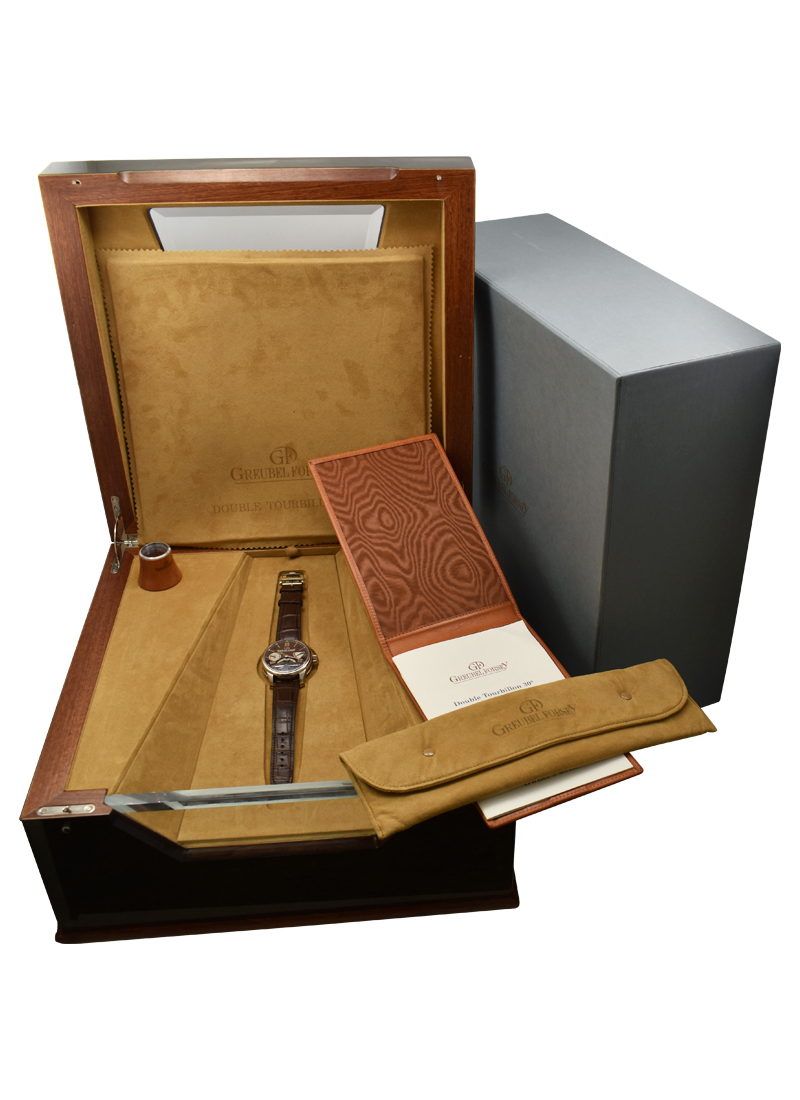 Greubel Forsey
Double Tourbillon Vision 30 Degrees in 18KT White Gold
on Strap with Brown Dial
| | |
| --- | --- |
| Model #: | Double Tourbillon Vision 30 Degrees |
| Case Material: | 18KT White Gold |
| Case Size: | 43.5mm |
| Movement: | Mechanical |
| Dial: | Brown |
| Bracelet: | Brown Alligator Leather |
| Retail Price: | $500,000 |
Condition: This watch is in Mint Condition.* Complete with Box and Papers.
Call for Price
* We have graded this watch to be 95% - there are minor scuffs or some wear on strap
Message us now on

whatsapp
Description
This Greubel Forsey Double Tourbillon Vision is a piece unique watch.

When Robert Greubel and Stephen Forsey first decided to develop a high performance tourbillon regulator, they set out to both pay homage to its famous inventor, Abraham Louis Breguet, and to make a decisive technical advancement.

In order to respond to the specific requirements of the tourbillon in a wristwatch, Greubel Forsey developed an innovative double tourbillon. One carriage, rotating in 60 seconds and inclined at 30°, rotates inside another, which is itself rotating every four minutes. Rotating a tourbillon inside another tourbillon in this manner averages out errors induced by the force of gravity on the balance. The construction allows for superior chronometric performance; a minimum volume/maximum balance diameter ratio; and enables the superbly finished mechanism to be appreciated visually.

To facilitate the best view of the mechanical ingenuity and nobility of the new mechanism, the architecture of the movement and the dial arrangement offer an immediate and global vision of this fascinating subject.

One first perceives the larger of the two cages, which performs a full rotation every four minutes. Its progress is indicated by four minute-markers placed at the center of the bridge of the large Tourbillon. Serving as a poising weight, a tiny gold nameplate indicates the individual number of the watch. Meanwhile, the off-set escapement is clearly visible around the rim of the inner cage.

The case of the Double Tourbillon 30° heralds the first ever appearance of the Greubel Forsey signature. Crafted in 18-carat white gold and featuring an impressive 43.5mm diameter, it illustrates Robert Greubel's and Stephen Forsey's innovative philosophy. Its geometrically differentiated lugs are inspired by the architectural principles of perspective: depending on the angle from which they are observed, such as when viewed from above, the lugs seem slimmer than they really are.

The architecture of this movement within a diameter of 36.4mm is entirely dedicated to the presentation of the Double Tourbillon 30°. Its unconventional construction uses two plates so as to organize the gear-trains and bridges in discrete fashion, leaving space for the rotation of the imposing cages. The plates and bridges are made of solid nickel silver, a traditional watchmaking alloy (copper, zinc and nickel), used in production of small, very high quality series, with a "jade gold" finish exclusively reserved for Greubel Forsey. The bridges are decorated with a subtle graining and the plates are finely circled so as to enhance the movement. The domed and olived jewels are fitted into gold chatons.